We relied on expert recommendations for the best ways to keep you warm while you practice golf indoors this winter.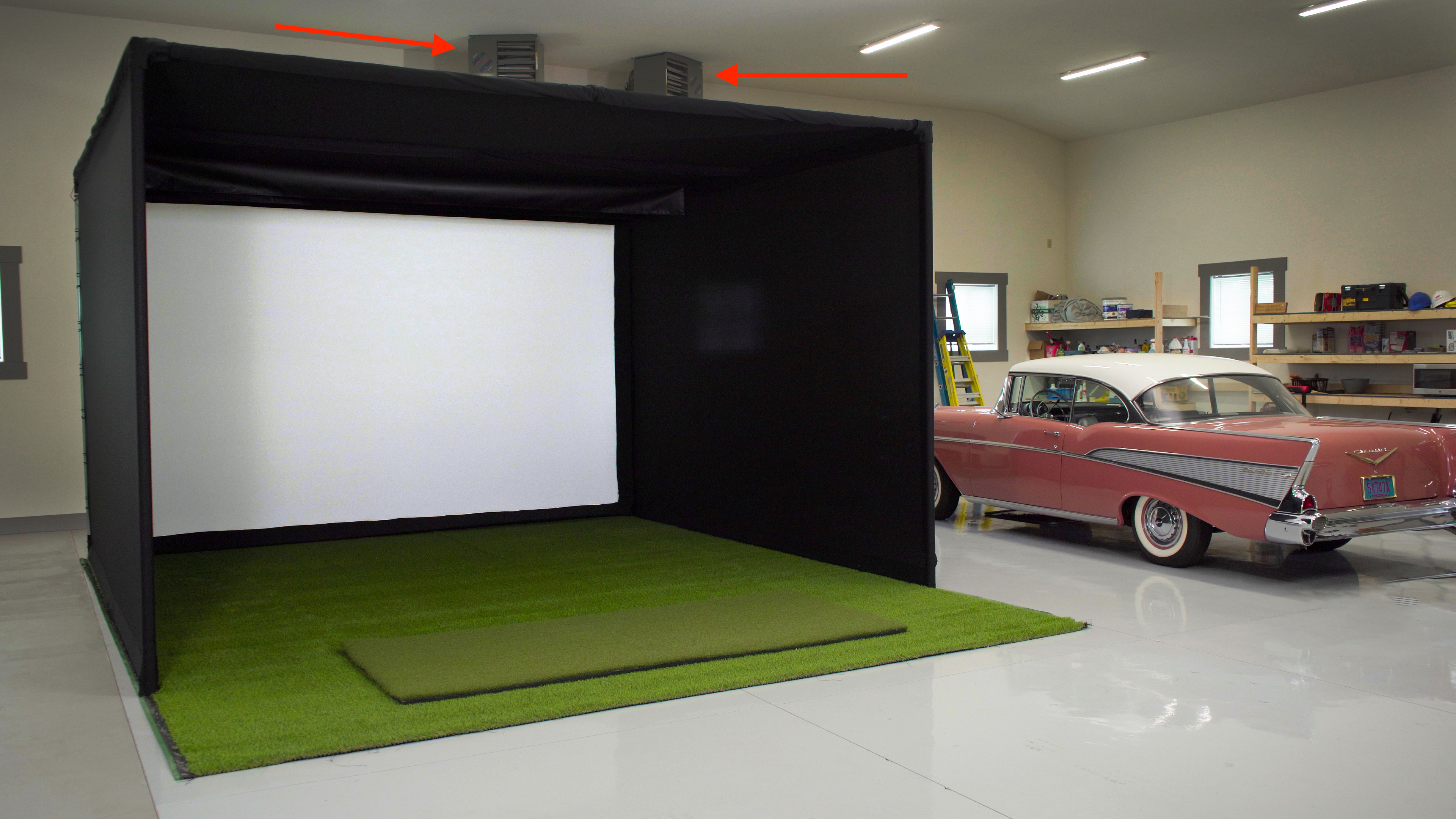 Seasons have changed and for many of us. The cold is here. We've over-stuffed ourselves with food and packed on some pounds in the last couple weeks to prepare for winter hibernation at home.
We've already inspired you to turn that garage or extra storage space into a golf simulator room. Sure, that extra weight from all the mashed potatoes you've consumed might help keep you warm, but if your garage or storage area is just a four-wall wind and precipitation blocker, we've got some tips from the experts on how to heat it up so you can keep playing golf all winter on your simulator.
HOW TO HEAT A GARAGE
Golfers are heating their garages for their golf sim in many different ways, but what is the safest and most effective way? Pete Harms, owner of RW Heating and Cooling in our hometown of Milton, Wis., gave us three great options to make your garage feel a little more like you're actually on a golf course.
First, Harms suggested a ceiling-mount electric garage heater because it can be added to almost any garage.
Second was tube heat or a radiant garage heater where it can be installed, because with that type of heat, you will warm the objects before the air and create a comfortable heat.
His third suggestion was infrared heat, even though you have to maintain clearance of all other objects.
"There are space heaters that run on propane/natural gas. Our choice is a Lennox ceiling mount gas heater," Harms said. "There are several sizes to choose from."
Warning from the expert: Harms advised us, "There are unvented units that hang on the garage wall, but I do not recommend them as they can be very dangerous."
GARAGE HEATER INSTALLATION COST
Our local expert added that the biggest mistake people make is trying to save a few hundred dollars by installing a garage heater that might not do the job.
"Get at least two estimates and listen to the experts," Harms said. "That way, you can talk about what you want and the best way to achieve your heating goals … A normal garage temp should be around 50 degrees. That is plenty warm to melt the snow off and still be efficient."
Now, if you're in the process of building a house,you've got a couple more options for keeping your garage warm in the winter when trying to improve your golf game.
HOW TO INSULATE A GARAGE
Wisconsin-based home builder Dave Gunderson said it is best to think about insulating your garage in the planning stages.
But, if you forget to add that to the plans, or have an existing finished garage without insulation, it is possible to drill holes in between studs and blow some spray foam insulation in the cavities.
However, Gunderson said it's easier and less expensive to just use fiberglass batt insulation and then drywall over that.
"My garage has fiberglass batting insulation in it, and I don't ever turn my heater on hardly and it still stays above 40 degrees in there, even in the dead of winter," Gunderson said. "Even when it's below zero, it's going to stay 35-40 degrees in there. It's never going to get below freezing."
"A lot of guys will hang a heater from the ceiling then and it takes a short time to heat up their garage. It takes the chill off very quick."
Gunderson added that the spray foam insulation, although more expensive, is great for sealing up electrical outlets as it fits the corners and crevices tighter.
"If you're going to build a new house and finish the garage, you should insulate it, too," Gunderson said. "It's not that much more of a cost."
For more helpful insulation ideas, visit this piece on types of insulation from the U.S. Department of Energy.
Hopefully, these garage warming tips will help you keep practicing golf in the winter. Want to see how easy it is to set up Carl's Place DIY Golf Simulator Kit?
This post contains affiliate links. If you click through and make a purchase, Carl's Place may receive a small commission at no additional cost to you.