You called, we picked up. You chatted or emailed, we didn't leave you on read. You asked, we answered. But in case you need more answers, these might help.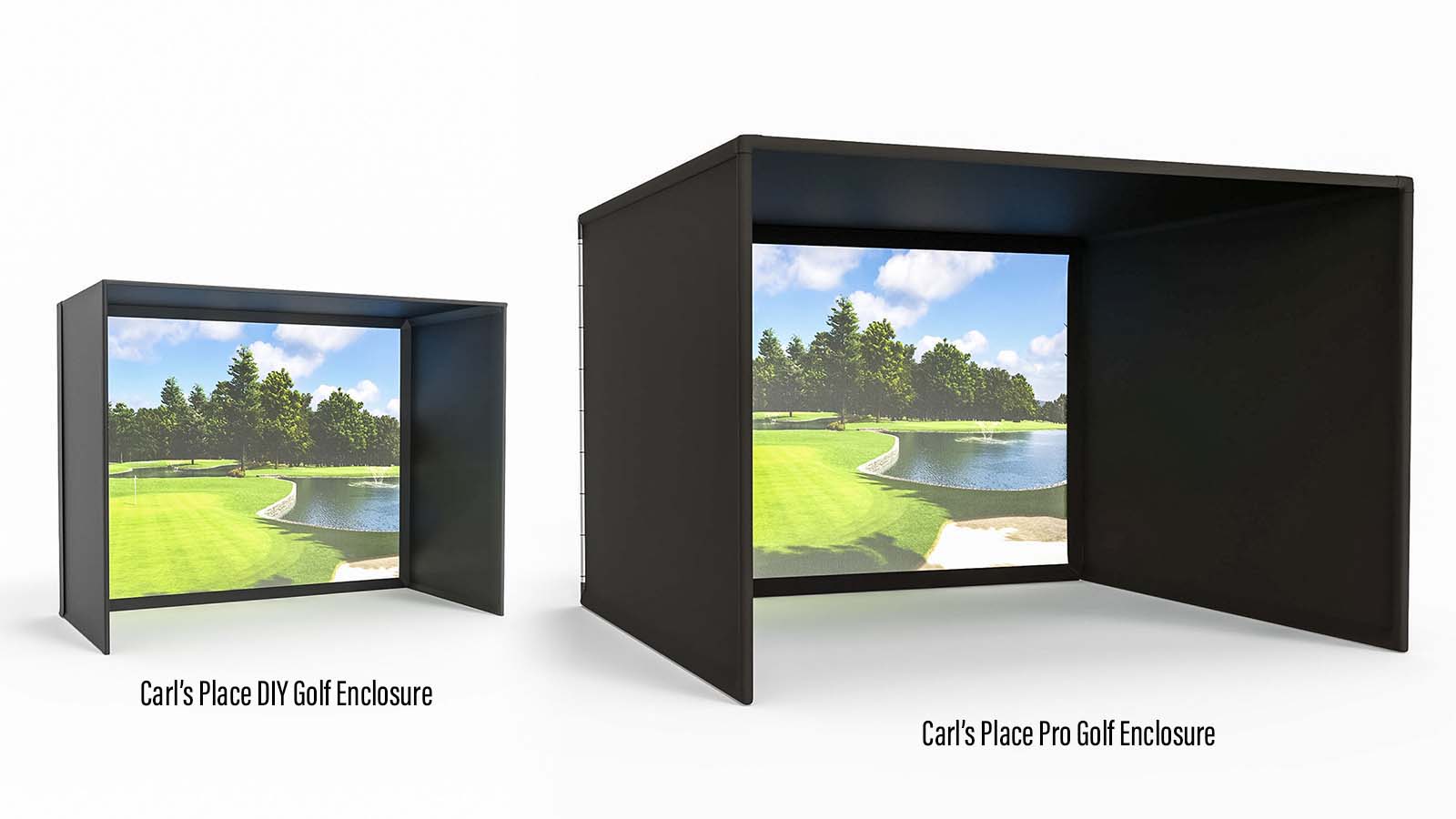 You've heard that curiosity killed the cat. Thankfully, it was only the cat and not our curious customers who ask us thousands of questions each week.
Don't worry, no cats were harmed in the making of this article, and we're not annoyed like you are with your child who can't stop asking you questions. We enjoy helping people learn more about how we can make their golf simulator dream.
We've narrowed that long list down to the top questions from 2021 at Carl's Place. Below, we will provide you with answers and resources to help answer those questions!
WHAT IS THE DIFFERENCE BETWEEN THE CARL'S PLACE DIY AND PRO GOLF ENCLOSURE?
The simple answer: size, feel and budget.
Our DIY and Pro enclosures look similar in photos. They are both surrounded by black enclosure material and accompanied by a white impact screen. Each uses ball bungees and electric metallic tubing; DIY uses 1-inch EMT and the Pro uses 2-inch.
But in real life, you can see and feel the difference. The 2-inch EMT frame for the Pro allows us to build larger enclosures and mount electronics to the frame and has a higher-end look to it.
Check out this more detailed comparison that will help you decide which golf simulator enclosure would be best for your space.
Our DIY and Pro assembly videos can also help you understand!
WHAT IS THE DIFFERENCE BETWEEN CARL'S PLACE GOLF IMPACT SCREEN MATERIALS?
Carl's Place offers three different impact screen materials: Standard, Preferred and Premium. All three can be made in custom sizes.
Premium is our top and most popular option. It's three layers are durable and help dampen the noise of the ball hitting the screen, while the top layer is the smoothest for best picture quality.
Preferred is a great mid-level option. It's not as heavy on the wallet as the Premium, but still provides a durable screen with decent image quality, and the Standard is a great entry-level option.
Our product specialist Tim explains the differences between the three screens much better.
WHAT IS THE DIFFERENCES BETWEEN THE DIFFERENT SCREEN FINISHES?
First of all, if you don't know what we mean by "screen finish," it's the edging around the white part of the actual impact screen.
We have three finish options: classic, classic with flaps and the classic with loop fastener. You can check out some photos on our impact screen product page where you can toggle between the different screens and finishes.
Notice how all of them include "classic." That means they all have the 2.5-inch vinyl edge with grommets, which act as mounting points using ball bungees or zip ties that can attach to a frame.
The classic with flaps includes 7-inch nylon flaps with a strip of loop fastener that can attach to a strip of hook fastener either on your enclosure, walls of your golf room, etc. This would be the screen that would come with a DIY enclosure.
The classic with loop fastener strips includes a 1-inch strip of loop fastener around the entire screen. This is typically used in our Pro Golf Enclosures where foam cushions surround the screen and attach to the loop fastener.
Check out our video explaining the differences between the screen finishes.
IF I'M JUST ORDERING AN IMPACT SCREEN FROM CARL'S PLACE, HOW SHOULD I BUILD A FRAME TO MOUNT IT?
The easy answer: purchase one of our golf enclosure kits and we will design it for you so that you have an easy assembly following our detailed instructions. However, if you want to design your own solution, you have several other options.
Some customers might simply hang the screen in a garage or larger storage-type building, and others might build a hitting cage from which they hang the screen. No matter the solution, it will likely require some trial and error.
Just be sure to hang it so it is flat for a high quality projected image, but not too tight to avoid fast ball bounce back.
Typically, we suggest making your frame no more than 2 inches taller or wider on each side than the screen you plan to order. This means your frame should not be more than a total of 4 inches taller or wider than your screen. If you already have a mounting solution, we can customize a screen to that size, making it as taut or loose as you would like.
DO I NEED FOAM INSERTS?
No, you do not need them. Would we recommend them? Yes.
Foam inserts are placed behind the flaps of the screen up against the frame of the screen/enclosure. They protect the EMT frame and ball bungees from damage, but also help keep the ball from ricocheting off the frame and back at the golfer.
Some customers have used other solutions such as gutter foam for this purpose, but we believe our foam is the softest and safest for this use.
WHAT ARE THE MOST IMPORTANT FACTORS TO CONSIDER WHEN LOOKING AT PROJECTORS?
Projectors can be overwhelming, but the three of the top factors to consider would be your intended aspect ratio, throw distance and budget.
Aspect ratio deals with the shape of your projected image. The key is that you will want your projected image to fit the shape of your golf impact screen so you get the best experience. It is not necessary, but makes your setup look much cleaner and professional.
Throw distance is where you need to place your projector to fill your golf impact screen. Our screen size calculator can help you with this and other details.
This past year, we explained more of what the common projector terminology means, how to set one up in your space and our favorite golf simulator projectors of the year.