What is a golf simulator?
Answering the basics of what is a golf simulator - an indoor virtual golf setup, made up of an enclosure and screen, with the technology to analyze your swing.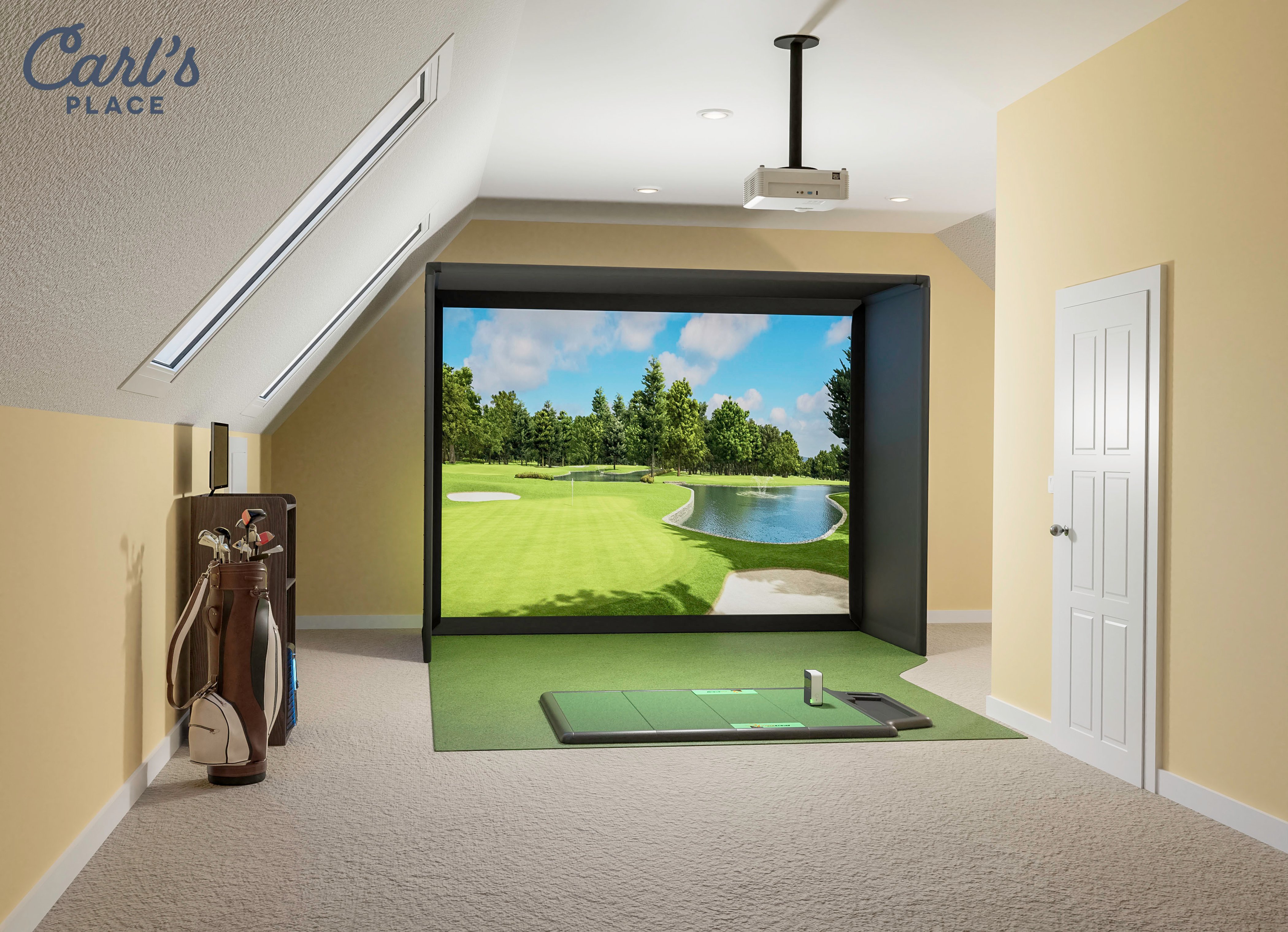 Whether you've golfed a billion times or don't even know what the sport of golf is, a golf simulator might be hard to understand.
A golf simulator is an indoor virtual golf setup, composed of an enclosure and screen, with the technology to analyze your golf swing.
In its simplest form, it's a way to golf inside … but a lot goes into that.
A golf simulator can be a rewarding, fun, entertaining and game-improving investment for just about anybody. Once the golf sim is fully functioning, it is easier to use than having to drive to the golf course, check in, find your golf cart and get to the first tee on time.
So, what is included in a golf simulator? The pieces that make up a golf simulator can (but don't have to) include a(n):
Where Can I Set Up A Golf Simulator?
Where might you find a golf simulator once it is purchased and installed? We've had customers install them in dozens of different spots, but here are some of the most common places to find them:
Residential

Basement
Garage/extra storage space
Extra bedroom
Large living area
Sun room

Commercial
And who in the heck uses a golf simulator in all of these places? Well, maybe it's a golfer trying to improve his game at home while also trying to save money. Or, maybe someone really wants to jump into golf and take up a new hobby or workout routine. Or, it's a member of a golf course taking advantage of those perks on inclement weather days or in the offseason at their course. Or, it's a group of friends out on the town for a night looking for something fun to do.
You get the point. Anybody and everybody can use them in many different ways.
When Is The Best Time To Use A Golf Simulator?
The obvious best times to take advantage of a golf sim are when you can't comfortably golf outside: rain, snow, extreme heat, earthquake. OK, maybe not an earthquake as that also affects indoor spaces, but I think we got our point across.
Golf simulators are ideal setups for golfers who want to take advantage of the sport year-round in any weather.
Another hidden benefit is that golf simulators can be used at any time of the day. Can't fall asleep at night and wanna go play a quick round? Sure, get up at 2 a.m. and play a quick 18. Not a problem!
How Much Does A Golf Simulator Cost?
Now that we have your attention and interest, you might be wondering how much a golf simulator can cost. It depends on a lot of factors, but mostly how many of the above puzzle pieces you want to buy, and how much you want to spend on them.
Depending on your budget and needs, a decent golf simulator can cost you between $3,000-$20,000, or higher if you want all the bells and whistles.
Good thing is you get to make the call on how much you want to spend. If you need some ideas, we challenged our team to build golf simulator setups with budgets of $3,000, $5,000, $10,000 and $20,000. Check out each to see which golf simulator might work best for your needs.
Our Build Your Own Golf Simulator tool will let you customize your own golf room. Check it out.
Now for those still wondering 'What is a golf simulator?', let's walk through the components of a typical golf simulator.
What Do You Need For A Golf Simulator?
GOLF SIMULATOR ENCLOSURE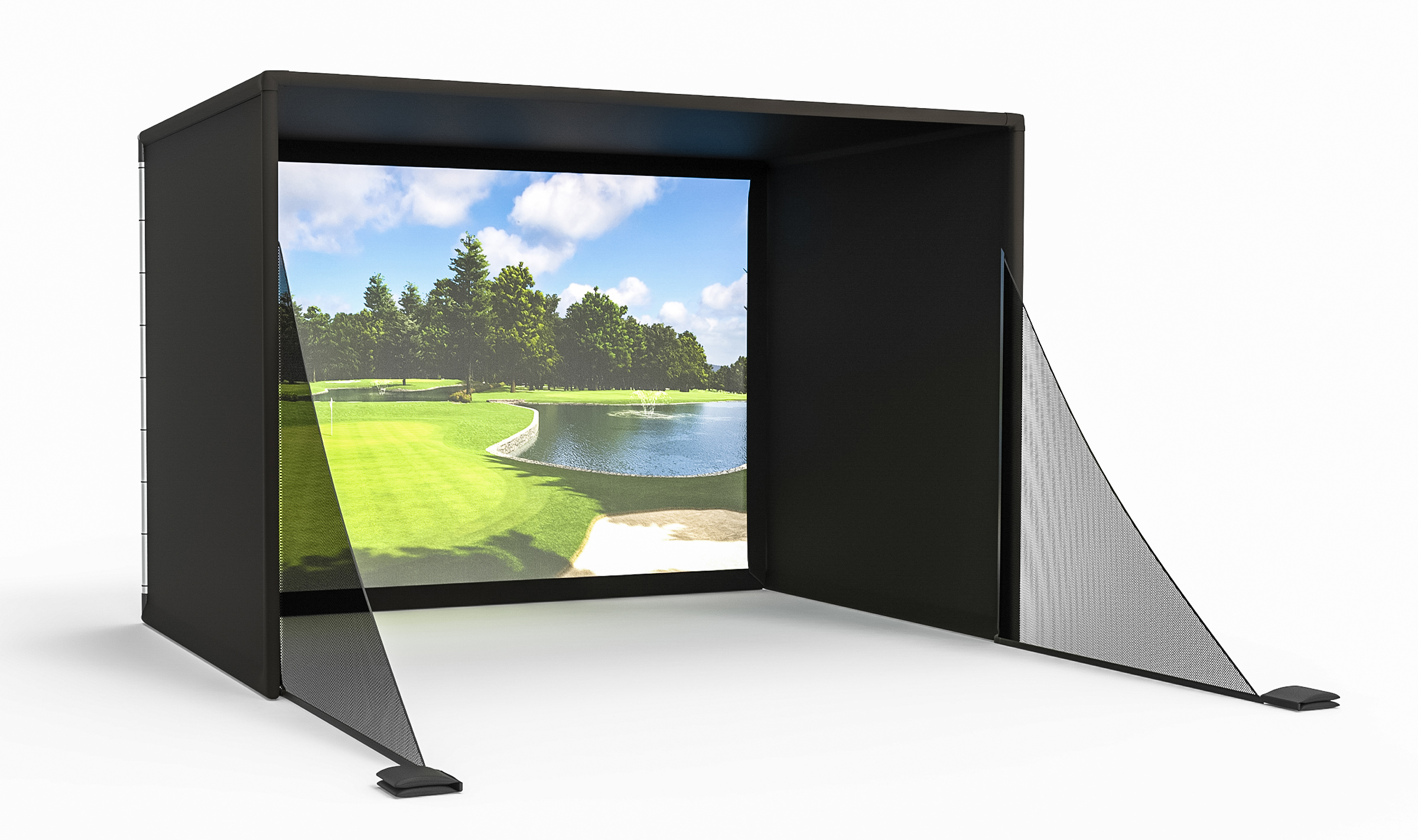 A golf simulator enclosure is a layer of protection around your hitting area and impact screen. It keeps out unnecessary additions, such as ambient light to help provide a bright image on your impact screen, and helps contain important equipment, such as golf balls.
At Carl's Place, we offer two different types of enclosures to keep you safe while golfing: DIY and Pro. Both are customizable down to the inch and come with the option of three impact screens: Standard, Preferred or Premium.
The DIY enclosure surrounds your golf simulator setup with black nylon, while the Pro is made of black knit fabric. The black nylon (and impact screen) in the DIY enclosure to 1-inch Electrical Metallic Tubing (EMT) or our Pipe Framing Kit, which also acts as the frame for the enclosure.
The DIY has a standard 5-foot depth and is great for people who don't have a ton of room to work with. It's easy to set up and even easier to take down and/or move around.
The Pro's black knit fabric (and impact screen) attaches partially with ball bungees to a 2-inch EMT frame for a larger, more professional look. Have plenty of space to work with or want a more immersive experience? The Pro is the way to go as it can be up to 20-feet wide by 20-feet deep, and is used for commercial simulator shops, golf lessons and even high-end man caves.
Check out our Pro assembly video.
The larger and sturdier framing of the Pro enclosure allows golfers to mount electronics (launch monitors and projectors) to the frame itself, whereas we do not suggest mounting anything to the DIY frame.
We compare and contrast the DIY and Pro more in this article.
Alternatively, some people build out a room as their "enclosure."
How To Convert Your Room Into A Golf Enclosure
Instead of using pipe framing, someone wanting to convert a spare room to a golf enclosure could:
Attach 2x4s and angle iron to their walls.
Choose an impact screen to protect your wall.
Use ball bungees to attach the impact screen to their new frame.
Instead of surrounding their hitting area with black nylon or knit fabric, they then cover their walls with acoustic panels to minimize the noise and soften the blow of any errant shots.
Carl's Tip: Order the classic impact screen with flaps finish to help cover up the frame, attaching the loop strip on the flaps to a hook strip on the wall.
GOLF SIMULATOR IMPACT SCREENS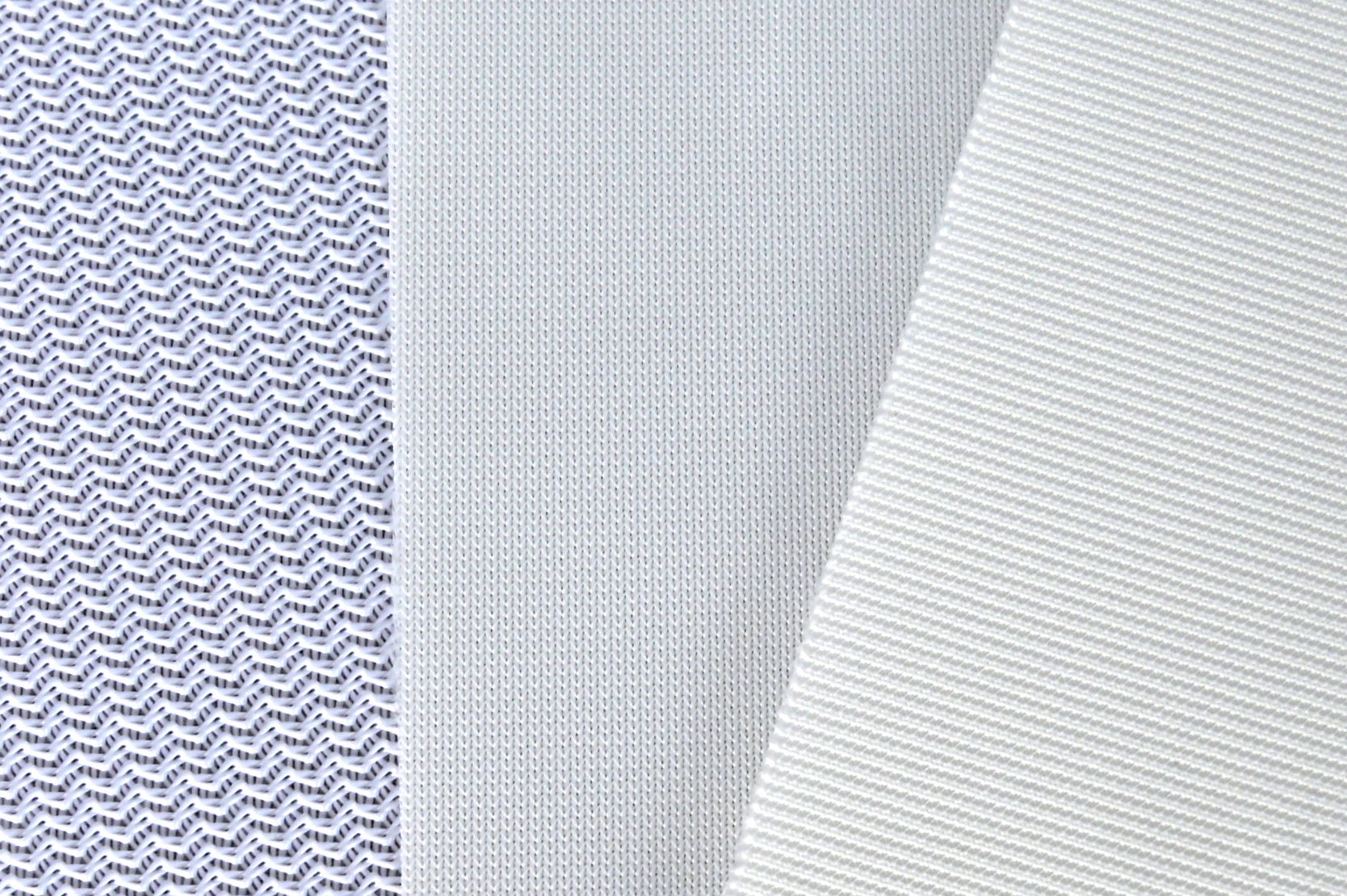 Impact screens are what stop the ball shortly after it is hit, and also have the purpose of showing the projected image from your golf simulator software on a white screen to help create that immersive experience.
Impact screens are not necessary - many people just hit the ball into a net - but without one, you will not feel like you are actually on the golf course. After hitting your shot, would you rather look straight ahead to see where it goes like you were actually on a course or driving range, or look over to the side at a smaller monitor each and every time?
Only some, specifically Carl's Place impact screens, can handle the impact of a real golf ball in the long term, catching it and dropping it to the floor in a safe manner. Because of the beating an impact screen takes from golf balls, they typically do not have the same quality of surface as a regular projector screen, meaning you wouldn't see much of a difference in a pricier 4K projector.
Impact screens tend to last longer than a hitting net as well.
GOLF SIMULATOR LAUNCH MONITORS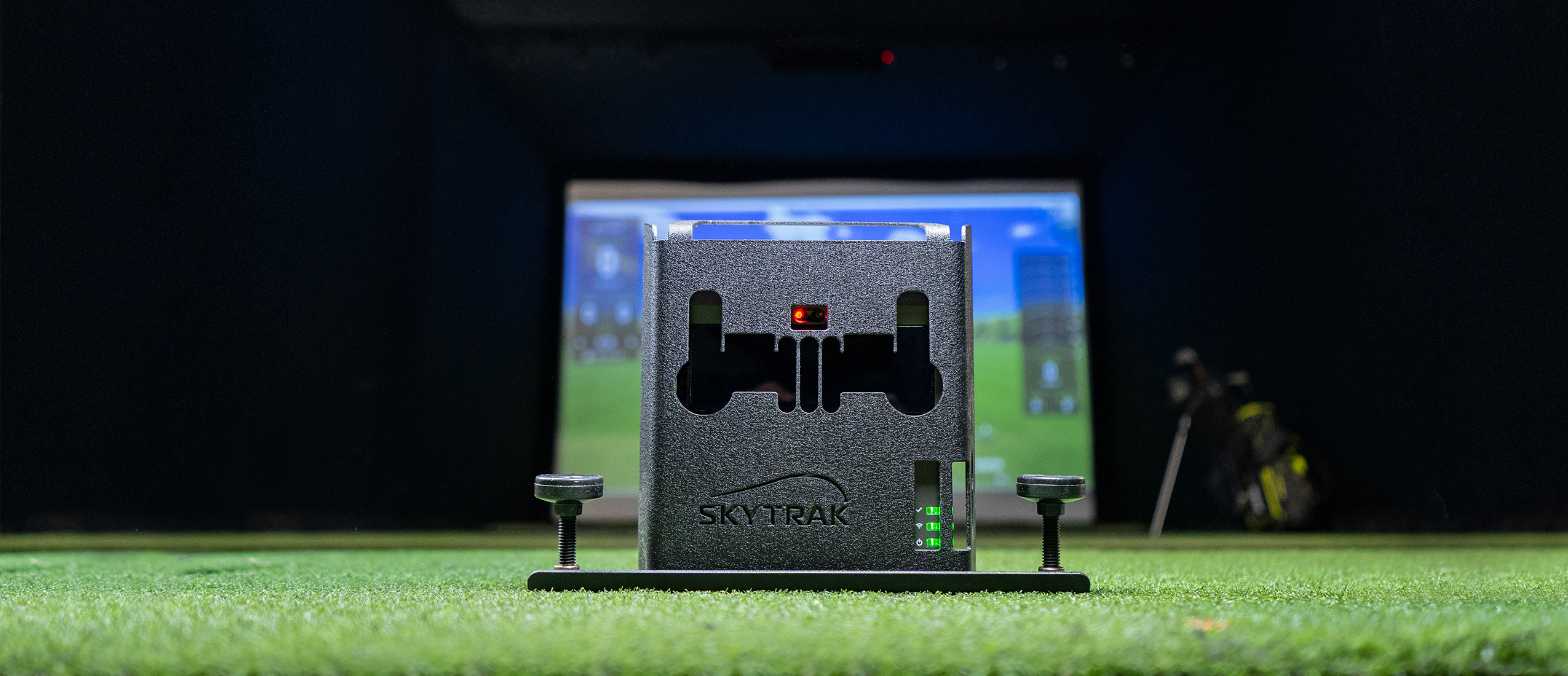 A golf launch monitor is the brains of the operation. It's an electronic device that sits near or around the hitting area to read all the important data as the ball is struck. That data is then transmitted to a software program on a tablet or computer to show your shot distance and shape.
To show you what your shot looks like, a launch monitor uses a bunch of different data points, such as ball spin, ball speed, club speed, club attack angle, and much more. Launch monitors are manufactured using different technology to capture said data, including cameras, radars and sensors.
At Carl's Place, we offer several launch monitors. The Mevo+ and Garmin Approach R10 use radar technology to gather data, while the SkyTrak and Uneekor launch monitors use cameras. Each launch monitor is programmed with its own algorithm to produce the data after reading the ball at impact.
Alex at My Golf Simulator explains more about radar versus camera technology, saying radar-based launch monitors excel outside and in larger spaces where it can see more of the ball flight, while camera-based launch monitors typically work better in small spaces. Radars track moving subjects, such as your golf ball, and camera-based launch monitors take many pictures or video just before and after the ball is struck to gather data.
Sometimes reflective stickers or intentional marks on a ball will help either launch monitor pick up the spin on the ball, which affects most of the data output. However, some of the higher-end launch monitors require less help.
Some of the data provided by mid-end launch monitors include more basic information such as carry distance, total distance and ball speed. Higher-end models offer a lot of the same ball data, but also add in club data such as attack angle, dynamic loft, club lie angle, impact point (horizontal and vertical) and more.
Why is a launch monitor a necessity when it comes to a golf simulator setup?
Well, without the data it provides, there is no way you would be able to see how your ball would fly. You wouldn't be able to play any courses or games, leaving you to not be able to improve your game.
Simply, while other pieces of a golf simulator setup might not be a necessity, a golf simulator cannot work without a launch monitor.
Golf Simulator vs. Launch Monitor - What's The Difference?
Sometimes, when people refer to a "golf simulator," it is actually the launch monitor they are talking about.
What is a launch monitor? The launch monitor is what tracks your swing and ball to give you realistic data on where your ball virtually went. What is a golf simulator? The golf simulator is the entire setup: enclosure, screen, and technology that lets you experience virtual indoor golf.
Many golfers will use the data from their launch monitor and take it to a certified golf instructor, who will then be able to tell the golfer what areas of their swing they need to improve.
GOLF SIMULATOR SOFTWARE
Golf simulator software gives your golf simulator life. It takes in the data from the launch monitor and pumps it out into easy-to-understand numbers and visuals. Some launch monitors pump out more data than others, but those launch monitors will hit your wallet a little bit harder.
A golf simulator setup won't work without software.
And using those numbers, the software shows you how your shot would look on a virtual driving range or golf course, depending on what you're playing. Along with virtual driving ranges and golf courses, some golf simulator softwares offer training and games.
Examples of training might include approach or chipping contests to hone in your short game. Sometimes the games, such as closest-to-the-pin contests, can act as training, or a game of golf darts could entertain your family and friends.
What golf simulator software programs exist?
Each launch monitor comes with its own basic software with most of them having the potential to upgrade. However, there are also third-party software options, such as TGC 2019, GSPro, E6 Connect and Creative Golf 3D.
Each software has different graphics that appeal to different people, and some offer different golf courses. For example, E6 Connect offers famous courses in its expanded package such as Bandon Dunes and Torrey Pines, while TGC has Pebble Beach and Augusta National (aka Firethorn).
It is important to do research on what software will fit your needs and be most aesthetically pleasing to you before you buy.
GOLF SIMULATOR HITTING MATS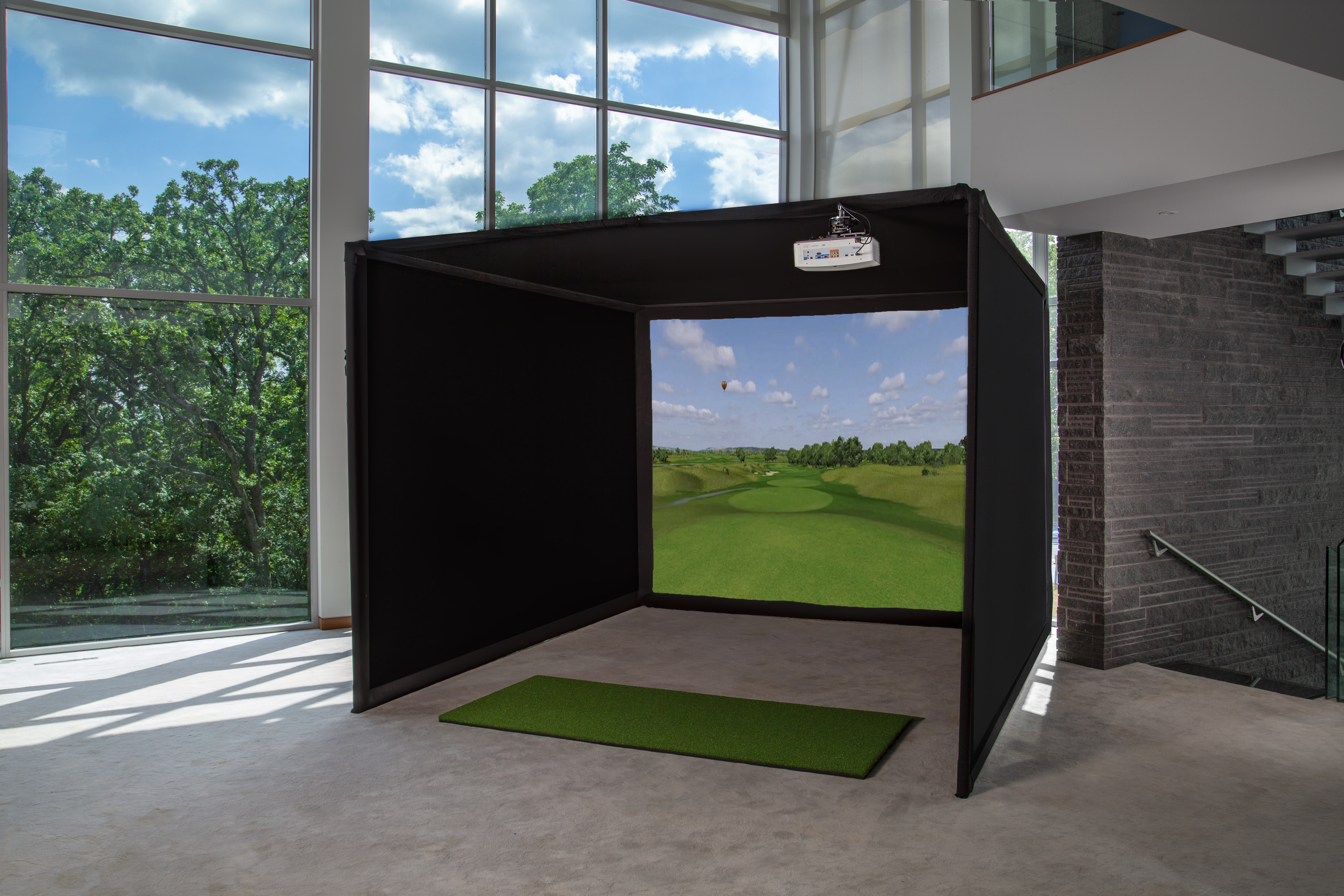 A hitting mat is a necessary piece of your golf simulator setup. It would not be smart to hit off of your cement garage floor, laminate basement floor or shag carpeting for obvious reasons.
That said, it is much nicer hitting off of a high quality hitting mat in a golf simulator.
There are several factors to look into when purchasing a hitting mat, such as making sure it's similar to hitting off real grass at a golf course and making sure it is soft to avoid injuries to your arms and back after swinging. Check out our favorite hitting mats.
Although many hitting mats tend to be very similar, some are made quite different. According to its website, a Fiberbuilt mat is "made from a special blend of monofilaments engineered for strength and durability." These monofilaments, or synthetic fibers, act as the grass blades. Learn more about which Fiberbuilt mat is best for you.
With a mat like the TrueStrike series, the fibers are much shorter but the hitting section comes with a gel bag underneath to provide a more realistic fairway shot that will punish you for hitting too much "grass" before the ball.
Then there is the Carl's Place Hitting Mat, which provides the best of a lot of worlds: it's nice and soft, meaning you won't hurt after hitting from it, and it's budget friendly.
The Fiberbuilt and TrueStrike mats are both modular, meaning they can be moved and assembled pretty quickly. The modular designs make sections of the mats easier to replace if they get worn out.
GOLF SIMULATOR PROJECTORS
The main function of a projector in a golf simulator setup is to place the image of the golf course, driving range, game, etc. onto your impact screen to make it a more immersive experience. Necessary? No, but it's a nice bonus to give you a more life-like feel.
We've published a ton of great information about projectors in the following articles:
As we said above in the impact screen section, a 4K projector is great and all, but due to the texture of an impact screen and markings from flying golf balls, it will be hard to notice the difference between high definition and 4K. We'd suggest saving the money and getting just a high-def projector.
The projector is a large piece of being able to set up a high-definition golf simulator. Check out when our very own Carl spoke more with Projector Central about golf simulator projectors.
GOLF SIMULATOR COMPUTER/TABLET/PHONE
A computer, tablet or phone with the proper specs is a necessary piece of equipment for a golf simulator, otherwise you will not be able to see the data that your launch monitor puts out on your golf simulator software.
Each launch monitor and software will have recommended specs for the device that is running them. They might be able to run at those specs, but we'd say that should be the minimum you look for then. If your device's specs perfectly match the required specs from the launch monitor or software, it might not run as efficiently and possibly will lag, causing graphics to skip and just not look as good overall.
Additionally, if you purchase a computer at those recommended (or minimum) specs, any future updates to the launch monitors or software might cause you to have to upgrade your computer. If you get something more powerful right off the bat, you won't have to worry about the future as much, and will have a better experience with your current setup. Future proofing is a good idea, but also balance the future with not overspending on too much computer.
Some launch monitors, such as Mevo+ and SkyTrak, do not need an actual computer as their software comes as a phone or tablet app. You can play third-party software using those launch monitors, but then you would likely need a separate computer.
See golf simulator setups that can run on a tablet or iPad.
A common, average theme amongst the launch monitors and software we offer at Carl's Place is that, if using a computer, it is recommended to have an Intel i5 processor or better, at least 8 GB of RAM, a graphics card such as GeForce GTX 1060 or NVidia GTX 1060 or better, and at least the Windows 10 operating system. The processor and graphics card are the most important specs.
As with all pieces of your golf simulator setup, we highly suggest doing your research before pulling the trigger.
WRAP-UP
You now have all the knowledge on what is a golf simulator, how a golf simulator works, and all the parts that make it work.
To make it easy for you to get set up with the right components, Carl's Place has golf simulator packages that will help you get started with your own golf simulator setup. Check them out below.
Search articles by tag:
Golf Simulators